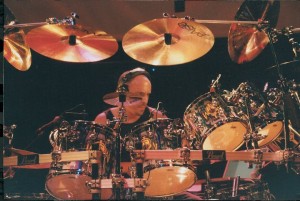 The drummer on the first Renaissance Rock Orchestra song "Johann Sebastian Rock" is none other than Queensryche drummer Scott Rockenfield.
Scott began playing drums at the age of 12. He had no lessons other than just wanting to explore his own playing by listening to bands such as KISS, RUSH, Van Halen, etc.
Rockenfield started forming QUEENSRYCHE in 1980 with some of his friends from local high schools. In 1982 they released their first self titled 4 song EP that catapulted them into securing a 7 record deal with EMI/Capital.
Scott also began working on his film scoring career in the early 90′s and he received his first ever Grammy Award nomination in 1998 for scoring a full length feature animated film titled "Televoid".
He has since gone on to work in film, television and multimedia. Besides these musically creative aspects of his career, Scott is also the owner of RockenWraps custom drum finishing which specializes in graphic wraps/skins for drums, guitars, keyboards and speakers.
Scott says "BELIEVE, TRUST, PREVAIL and most importantly LOVE!"