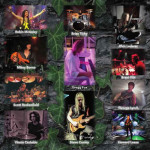 The Renaissance Rock Orchestra is a classical prog rock group. Our music blends classical & symphonic elements into hard rock and metal. RRO music often includes performances by well known rock star guest artists.

On our new release "The White Gate Trilogy EP" we feature world class talent including Rock and Roll Hall of Fame guitarist from Heart, Howard Leese, the wondrous vocals of Robin McAuley ( MSG/Survivor), powerhouse drummer Brent Fitz (Slash/Alice Cooper), monster drummer Brian Tichy ( Whitesnake/Foreigner/Billy Idol), Queensryche drummer Scott Rockenfield and master guitarist George Lynch ( Dokken/Lynch Mob).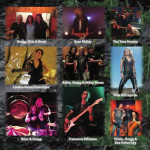 In RRO powerful keyboards are surrounded and supported by heavy rock guitars and drums. The music and its lyrical content are a humanistic revival of intellectual & artistic themes expressed vigorously at times through powerful and complex rock arrangements augmented with full string orchestration and at other times in beautiful and dreamy piano passages.
"All ye who enter here be of pure heart and ye shall fly to heaven on wings of sound" – The White Gate Trilogy
"The White Gate Trilogy" EP is an introduction to The Renaissance Rock Orchestra but is also designed for the discerning neo-classical/prog rock affecianado. The "Trilogy" refers to the first 3 songs, each an instrumental, which together encompass and create "The White Gate Trilogy", a stepping off point for the future musical direction of this epic prog rock orchestra.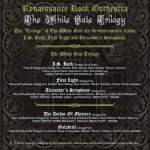 RRO is the brainchild of keyboardist Gregg Fox and includes well known Las Vegas musicians bassist Michael "Bones" Gerbino who has toured with Vince Neil and Rob Halford and guitarist Elvis Lederer from the Criss Angel Show "Believe" and The Blue Man Group.
We are excited about the response and feedback this orchestra is receiving from audiences worldwide and we look to the future with huge vision and great anticipation.
We look forward to having you join our growing family of friends and fans around the world and we look forward to meeting you at one of our shows in the near future!