The Renaissance Rock Orchestra is a classical prog rock group. Our music blends classical & symphonic elements into hard rock and metal. RRO music often includes performances by well known rock star guest artists.
Upon the release of their acclaimed classical progmetal EP "The White Gate Trilogy" in 2014 RRO began the musical journey forward towards their first full length CD "In Times Of Olde". After extensive writing and production they launched a Kickstarter campaign in late 2015 which gained the support of people worldwide to complete and release "In Times Of Olde".
"Long Ago IN TIMES OF OLDE, there was Magic In The Air,
A new day dawned, with A Song Of Hope,
…and music was everywhere!"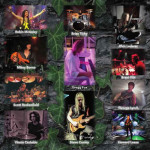 The new record "In Times Of Olde" is now slated for release in late summer. It is an exciting collection of classical progressive rock that begins what will ultimately be a 3 record set including"In Times Of Olde", "Magic In The Air" & "A Song Of Hope". Whereas "The White Gate Trilogy" EP began as a 3 song instrumental suite on their initial EP, in actuality "The White Gate Trilogy" will ultimately be a full 3 record set!
On "In Times Of Olde" you will find the music and the powerful keyboards of RRO creator Gregg Fox surrounded and supported by some amazing layers of guitars, drums, strings and vocals… AND some unbelievable world class and truly legendary talent!

This project, and the talent included herein, is historical in importance. Secreted within this recording you will a combination of truly iconic drummers that has never before been compiled into one record! From the legendary Vinny Appice of Black Sabbath & Dio fame, to Simon Wright from AC/DC, Alan White from John Lennon & Yes, Scott Rockenfield of Queensryche, Ben Smith from Heart, Brian Tichy ( Whitesnake/Foreigner/Billy Idol), Brent Fitz ( Alice Cooper/Slash) and finally to Roxy Petrucci from Vixen & Madame X this record is a remarkable compilation of some of the finest rhythm masters from rock history!
Also eternally preserved here are the combined talents and skills of some of rocks finest musicians including vocals from Robin McAuley from McAuley Shenker Group (MSG), Survivor & the Raiding The Rock Vault show in Las Vegas, Bret Kaiser (Kaiser/Madame X) famed Accept vocalist Mike Tirelli (Messiah's Kiss /Holy Mother /Jack Starr's Burning Star) and renowned guitarists Bumblefoot from Guns n Roses, Rock and Roll Hall Of Fame Inductee Howard Leese from Heart & Paul Rogers, George Lynch (Lynch Mob /Dokken) and Joel Hoekstra (Whitesnake/ TSO).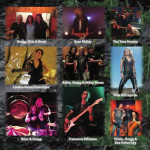 RRO's members also include bassist & associate producer Michael "Bones" Gerbino who has toured with Vince Neil and Rob Halford, guitarist Elvis Lederer from the Criss Angel Show "Believe" and The Blue Man Group, guitarist Steve Conley from F5 and Flotsam & Jetsam, and drummer Vinnie Castaldo, who also produced and engineered "The White Gate Trilogy" EP and is the owner of The Tone Factory Recording Studio in Las Vegas ( where the EP was recorded).
Other notable musicians to be found on the new record include bassists Phil Soussan (Ozzy/Billy Idol/Rock Vault), Francesco DiCosmo (Thin Lizzy/Evanessence), and guitarists George Cintron and Robby Lochner (Great White).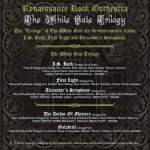 Be sure to keep an eye out for the upcoming release of "In Times Of Olde" which will be available immediately from CD Baby and all digital outlets and then distributed through record stores worldwide by 2017.
We are excited about the response and feedback this orchestra is receiving from fans everywhere and we look to the future with huge vision and great anticipation.
Thank you for joining our growing family of friends and fans around the world. We hope to see you at one of our shows in the near future!