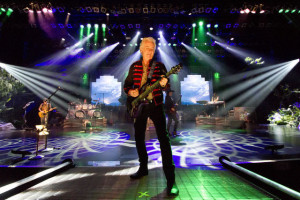 RRO is very proud to have Rock And Roll Hall Of Fame Inductee guitarist from Heart Howard Leese join us on "Alexander's Symphony".
Howard played with Heart for 22 years (1975 through 1997) and continues to record and tour as a solo artist, and as guitarist with The Paul Rodgers Band and Bad Company.
It was at Mushroom Studios in 1974 that Leese helped produce a demo for Heart. The next year, Mushroom Records signed Heart and released the group's first album Dreamboat Annie. Leese was assistant producer on the album, and was asked to join the band later that year. He stayed with the band until 1997. Leese was Heart's guitarist, backing vocalist, keyboard player and song arranger.
In 1998 he joined The Paul Rodgers Band. He continues to tour with The Paul Rodgers Band and Bad Company and as of May, 2013, When not touring, Howard is performing in "Raiding the Rock Vault" at the LVH Hotel in Las Vegas, Nevada.