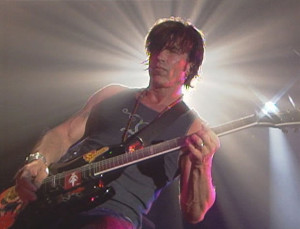 Guitar master George Lynch became a part of RRO for "The Author Of Mystery" where he does what he does best with a mind blowing solo that is "creme de le creme" Lynch. George is best known for his work with the bands Dokken & Lynch Mob. Also considered to be one of the most inspiring guitarists of the famous 80's glam metal and hard rock scene George is known for his unique style in playing and sound . He is ranked #47 in "100 greatest guitarists of all time" by Guitar World magazine.
With Dokken George Lynch had a string of successful platinum albums such as Under Lock And Key and Back For The Attack that prominently featured Lynch's inventive lead guitar work and cemented his reputation as a bonafide guitar hero. The instrumental track "Mr. Scary" on Back For The Attack contributed to his popularity among guitar players. The band earned a Grammy nomination for the Best Metal Performance in 1990.
In spite of the band's popularity, the group parted ways in March 1989 due to internal tensions with lead vocalist Don Dokken. Lynch formed his own hard rock band Lynch Mob which differed from Dokken in lyrical and guitar complexity, subject matter, song structure, and tuning.
George currently lives near Los Angeles where he created an instructional guitar website named the Dojo Lynch also started making in his own hand made "art" guitars which he makes himself at the ESP Guitars USA custom shop facility.