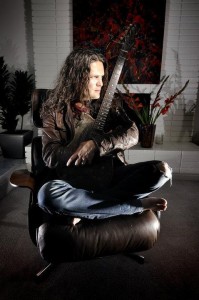 One of the guitarists for The Renaissance Rock Orchestra is the fabulous Elvis Lederer! Elvis is from Germany and has studied classical guitar since he was 8 years old with teachers from the Richard Strauss Conservatory in Munich. He also studied for 4 years at Berklee College of Music and is currently the assistant music director for Cirque du Soleil and the guitarist for the Criss Angel show "Believe" in Las Vegas.
Elvis was a vital member of The Blue Man Group for 9 years and performed and created music for the Grammy nominated album Audio and The Complex by The Blue Man group. Elvis has appeared on the "Tonight Show" numerous times and has performed on the Grammy's with Moby, Jill Scott and Blue Man Group.
Elvis has been featured on NPR (State of The Reunion) nationwide with his band Uberschall for being a culturally relevant part of Las Vegas and is also the leader of another Las Vegas group, Unique Massive which is an improv ensemble that has been joined by famous touring and local musicians Including members of Steely Dan, Cool and the Gang, Primus, Bad Brains, and Tower of Power.
Elvis has toured the world extensively playing guitar from Germany to New York and from Las Vegas to the Netherlands, Italy, Cyprus, Aruba and Mexico.
He continues to amaze audiences with his blazing guitar skills nightly in Las Vegas with Criss Angel, Unique Massive and Uberschall and we are very happy to showcase his chops on "Johann Sebastian Rock" by The Renaissance Rock Orchestra!