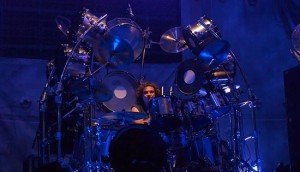 As the Renaissance Rock Orchestra continues recording "In Times Of Olde" for you we also continue to enlist some of the greatest musicians in the rock world to our ranks! We happily announce that legendary drummer Vinny Appice from John Lennon, Rick Derringer, Black Sabbath, Ronnie James Dio& Heaven and Hell is laying drums on our new prog rock track "The Ice Age Cometh"!
When he was sixteen, Appice and his band BOMF met John Lennon at Record Plant Studios, leading to him appearing on several Lennon recordings. He moved on to record with Rick Derringer on Derringer (1976), Sweet Evil (1977), and Derringer Live (1977), before forming his own band
Axis and recording It's A Circus World (1978).
Appice joined Black Sabbath during the tour in support of the Heaven and Hell album in 1980. He was quickly brought in to replace original drummer Bill Ward, who quit the band mid-tour due to personal issues. Appice arrived for his first show with Black Sabbath at the Aloha Stadium in Hawaii with his entire drum kit packed into the back of a car. Appice subsequently appeared on the Black Sabbath albums Mob Rules (1981) and Live Evil (1982).
In late 1982 he left Black Sabbath along with vocalist Ronnie James Dio and formed the band Dio. They recorded Holy Diver (1983), The Last in Line (1984), Sacred Heart (1985), Intermission (1986), and Dream Evil (1987). In 1992 he returned to Black Sabbath for the Dehumanizer album and tourand then rejoined Dio and they recorded Strange Highways (1994) and Angry Machines (1996).
Appice rejoined his Black Sabbath bandmates Ronnie James Dio, Geezer Butler, and Tony Iommi in 2006 as Heaven & Hell, touring and releasing one studio album, The Devil You Know, before Dio's death in 2010.
Vinny will actually be using the SAME drum kit that he played on when recording the Black Sabbath records! Excellent!
We're very excited to make this announcement and can't wait to share with you soon the rockin and historical drum skills of Vinny Appice on our powerful new prog rock track "The Ice Age Cometh" which also has some brilliant guitar work by Great White guitarist Robby Lochner!
Thank you again Vinny! Welcome to the Renaissance Rock Orchestra!