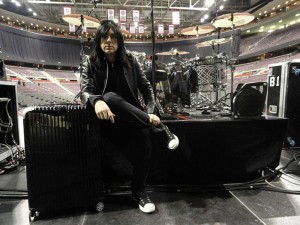 On the the song "Alexanders' Syphony" RRO is joined by Slash drummer Brent Fitz! Having toured with Vince Neil, Alice Cooper and Slash, Brent has developed an uncanny and rare "live" drumming style that is smooth & natural with the perfect "power drumming" sound needed for this particular symphonic prog instrumental.
Fitz is a native of Winnipeg, Canada where started piano lessons at the age of five and drums at the age of ten, playing heavily in his middle school and high school music programs. He got his professional start at age 15, playing in various Winnipeg clubs and outlying areas in a cover band named New Alliance. He later moved on to join the heavier Winnipeg based touring club act Seventh Heavenwhich evolved into Shake Naked.
In early 2001, Fitz would receive an invitation to tour with "Vince Neil's" solo act as drummer (and keyboardist). He joined Vince on several international tours and recorded the album "Live At The Whisky" in 2002. Fitz appeared on VH1's TV show "Remaking: Vince Neil" in 2004 as well as an episode of "Queer Eye For The Straight Guy".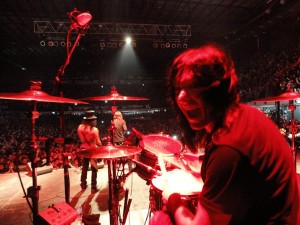 Fitz left Vince Neil in 2005 to join "Theory Of A Deadman" as the band embarked on tour to support the album "Gasoline" In 2006, while still touring with "Theory of a Deadman", Fitz temporarily left the band to tour with Alice Cooper, filling in on drums for Eric Singer while Singer was touring with "Kiss". In 2007, Fitz recorded with the Canadian rock act "Econoline Crush" on the album "Ignite", and subsequently became a permanent member of the band while still remaining as regular back-up drummer with Alice. Fitz appeared in the video for the Econoline Crush hit song "Dirty".
As of March 2010, Fitz became drummer for former Guns N' Roses/ Velvet Revolver guitarist Slash. With Slash, Fitz has performed on several US talk shows in 2010 including: The Tonight Show with Jay Leno, Jimmy Fallon, Jimmy Kimmell, Ellen, Lopez Tonight (twice) and The Late Late Show with Craig Kilborn. Fitz has also appeared in several music videos with Slash including "By The Sword", "Back From Cali", "Beautiful Dangerous" featuring Fergie, "You're A Lie", and "Bad Rain".
Welcome aboard Fitz! We're proud to have you as a member of RRO!