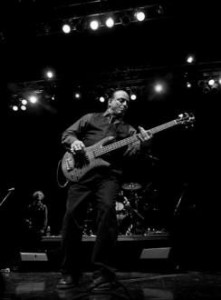 Our RRO bassist is affectionately known to his friends and fans as 'Mikey Bones'. Michael Edward Gerbino was born in Long Island, New York. At the age of 7, his artist mother recognized his natural interest in music and promptly bought him a piano and over the next few years adding a sax and trombone. Then everything changed when his older sister played him a T-Rex album and his brother turned him onto the Beatles, Sargent Pepper album. Which led him to a guitar in his hands at age 15, playing along to Led Zeppelin, Aerosmith, Yes, Kiss, Alice Cooper and Deep Purple to name a few.
Entering Suffolk County Community College to study music, he took up playing bass guitar as his full time instrument. However, he didn't last long because of the lure of the emerging live New York rock scene. During that time, playing in several projects including a guest instructor position at the prestigious New York's 5 Town's Music College.
Over the next few years he worked with the likes of New York Punk Legends, Chelsea and Johnny Thunders of the New York Dolls and Cher's first band the Black Rose, he joined New York rockers, Kaiser in 1986.
Kaiser was the first unsigned band to be nominated in the New York Music Awards, alongside Kiss, White Lion and Anthrax for Best Live Performance. Following that, they toured extensively around the country, ultimately relocating to Phoenix, Arizona. In 1987, Michael crossed paths with a band from Las Vegas called Problem Child, fronted by Louis Prima Jr., where they forged a musical alliance and long lasting friendship. Kaiser eventually changed their name to Bowery Boyz under the management of Don Arden (ELO, Black Sabbath, Air Supply, etc. Sharon Osborn's father), eventually earning the band a sponsorship from Budweiser, and Michael with endorsements with GHS Strings and Spector basses.
Mikey has performed over 4500 Live Shows, Including extensive studio, movie and music projects. He has performed, recorded or shared the stage with the likes of Rob Halford, Vince Neil, Pointer Sisters, and many others too numerous to list. Including a three month stint with the Vegas staple Legends In Concert, as Bill Wyman, which led to three years and 790 shows in Billboard Magazine's number one Rolling Stones tribute band, Satisfaction.
We've had the opportunity to play with some of the finest musicians on the planet. Anybody can play the notes but it is the personalities that make this band so special. As Aristotle said, 'The whole is greater than the sum of its parts'
Mikey Bones is currently endorsing GHS Strings, Ampeg Amplifiers and Spector Basses.